Women's Tuxedo Pants
No successful women's tuxedo look is complete without a quality pair of women's tuxedo pants. Think of the average women's tuxedo pant as an upgraded and more classy pair of slacks. Form fitting, comfortable material, with a satin stripe down the middle? Sounds like the perfect pair of formal pants if you ask us.
Take the women's tuxedo pants and wear as they were intended to complete the ultimate sexy and fashionable women's tuxedo look. Or, switch things up and pair your tux pants with a nice blouse or even a tucked in t-shirt for a stylish twist on the formalwear piece. They're versatile, and because they come in classic colors such as black and off-white, the options are endless with how one chooses to style these tuxedo pants. 
"Lydia" Black Tuxedo Pants
"Sophia" Black Tuxedo Pants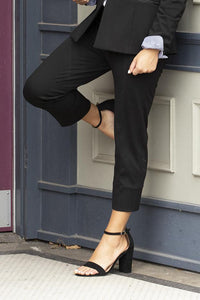 "Sophia" White Tuxedo Pants